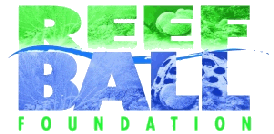 For Non-Reef Ball Foundation Funding Sources Click Here
For Reef Balls Without Coral Plantings Click Here
Finding funding for your project is always a challenge. Before you start anywhere else, the first place is to look at your local community resources. Few funders will provide assistance unless there is a strong community matching component. Even if your community does not have strong financial resources, components like volunteer labor, donations if boat use, scuba tank and equipment rentals, hotel space for trainers and volunteers and even meals for volunteers can all help. Find places in your community to build your reefs...perhaps donated space in a local concrete yard. And speaking of concrete....maybe that same concrete company has some left over waste concrete on rainy days or when someone ordered a bit more than they needed? Plan your project using our Step by step guide to Reef Rehabilition for Grassroot Organizations and have a well written project proposal before you approach potential funders. Coral Rehabilitation projects with Reef Balls involve two steps that must be closely timed....deploying your Reef Balls must take place at most a few months before coral plantings and ideally right after placement in the water. Your first step will be to apply for our Reefs Around The World matching grant program to fund the production and deployment of Reef Balls. When you apply for that program, tell them you are going to apply for the Coral Reefs Around The World program too.
Qualifying for a Coral matching grant is simple and easy. Just add information about how you will meet these requirements to your Reefs Around The World grant application email. The requirements are:
Propagated Hard Corals can only be planted by Coral Teams supervised by a certifiedLevel IV or higher Coral Team Progagation / Planting specialist.
Propagated Soft Corals can only be planted by Coral Teams supervised by a certified Level III or higher Coral Team Propagation / Planting Specialist
Non-propagated corals can only be planted on Reef Balls by a certified Level IV or higher certified Coral Team Rescue Specialist
A monitoring plan must be in place to include 24-72 coral fragment monitoring, a 90 day coral fragment monitoring and a minimum of two underwater digital photographings of your Reef Balls per year for a minimum of three years
Proof of permit to handle corals may be required
A publicity plan should be in place
Qualifying grantees may purchase coral progation tool kits and coral tables at our cost (40% off retail)
Most coral rehabilitation projects activate a Coral Team to complete the work , but if your project prefers on site training to certify your team as Coral Team specialists the grantee's will enjoy a 1/3 discount on training fees from our trainers & if salaried foundation trainers are used there will be no training fees charged. :
There are no matching discounts for shipping charges, tools, admixtures, coral putty or coral disk cement not included in regular Coral Took kits..
Grantee must show enough detail for us to reasonably assume the project can be accomplished and that the project will STRICTLY adhere to Reef Ball Coral Team Coral Planting Ethics & Rules.
This program cannot be used for mitigation projects under this grant unless a VERY significant public gain can be demonstrated beyond that which is mandated by the court or authorities.
If you elect to have our professional Coral Team do your propagation, rescue and planting work, you are entitled to 10% off retail pricing.
CORAL Team Activations
Reef Ball Foundation Coral Propagation and Coral Rescue Teams
the Reef Ball Foundation Coral Team Division, over the last 10 years, has developed a pool of worldwide talent willing to volunteer time and other resources for specific project needs. Whenever a reef restoration project presents itself to the Foundation, we can a trained and seasoned Reef Ball Coral Team leader and then we can alert hundreds, even thousands, of potential expert or trained volunteers that can generate the talent pool required to tackle even the most challenging of reef restoration projects.
Volunteers for each project are chosen by invitation of the Coral Team leader based on talents, experience, availability, and specific project requirements. Volunteers are organized and managed bls of the specific project. Project sponsors provide additional local volunteers, and pay for the expenses of the team usually in the form of a tax deductible donation to the Reef Ball Foundation designated for support of a particular project.
If the host organization can provide attractive volunteer packages such as lodging, meals, and extra excursions such as diving, then often these teams can be self-supporting by charging non-expert volunteers a fee to participate then using those fees to cover coral planting expenses and team leader expenses/stipends. Our Coral Team division can provide you with a custom proposal to fit the specific needs/opportunities of your project. And of course, if you just need our Coral Team professionals to do the job for you we can take care of any coral rehabilitation effort for you.
Reef Ball Foundation expert led, volunteer based teams, have a variety of expertise and here are a few examples:
Reef Ball Foundation teams are designed to be activated in emergency situations. With Reef Ball Foundation volunteer teams, we can repair the damage within a few months from the time of a disaster...not years. If a hurricane hits your community...don't watch the economic benefits of your reef go away for years....repair it quickly after the storm while the broken up coral fragments can still be saved (typically 1-6 months after a storm perhaps longer in low wave climate areas). If there are other treats to your reefs (impending dredge work, beach fills, new pollution sources, etc.) don't wait until the damage occurs, call us and proactively save your valuable reef resources and help us achieve our goals of saving our world's oceanic ecosystems.
Additional RBF Funding
We offer various special deals based on our funding levels and what we can reasonably offer to support worthy projects. Don't be afraid to tell us what you need so we can do our best to help! To aid our clients further, we have developed a project / sponsor matching database. This will help potential sponsors to find your project for funding.
This is a semi- automated website to allows us to track and present these projects. In order for your project to be listed send us an
email
detailing exactly what your project is, what you are looking for funding wise, possible time frames, status of permits, etc. The more information you can give us the better a chance you will have of attracting funding. Along with your email, please send several representative photos as an attachment (at a minimum your project or organization logo). When we get the email, we will organize the wording and photos in our new funding database. It will be your responsibility to notify us of any changes in project status.
Non Reef Ball Foundation Funding Sources For Artificial Reef Projects
NOAA
The NOAA Coral Reef Conservation Program announces the availability of funding for General Coral Reef Conservation Grants (GCRCGP) for FY08. Applications must be submitted by midnight, November 1, 2007. This program provides $15,000- $50,000 federal funding for 12-18 month projects to institutions of higher education, non-profit organizations, commercial organizations, Freely Associated State government agencies, and local and Indian tribal governments to support coral reef conservation projects in the United States, US territories and commonwealths, and the US Freely Associated States. Projects funded through the GCRCGP must support on-the ground efforts that: (1) help preserve, sustain and restore the condition of coral reef ecosystems,
(2) promote the wise management and sustainable use of coral reef resources, (3) increase public knowledge and awareness of coral reef ecosystems and issues regarding their conservation and (4) develop sound scientific information on the condition of such ecosystems. Projects can include (a) Monitoring and assessment of coral reefs or reef resources; (b) Socio-economic assessments and resource valuation; (c) Marine protected areas and associated management activities; (d) Coral reef fisheries management and enforcement; (e) Coral reef restoration; (f) Public education and
outreach activities; and (g) Local action strategy projects. Research activities are eligible only if they directly contribute to improved
management and demonstrate effective and prompt mechanisms to disseminate information to resource managers.

The full funding announcement and federal forms can be found at grants.gov. Applications should be submitted via www.grants.gov and must be received by grants.gov no later than 11:59 PM EST on November 1, 2007. If grants.gov cannot be reasonably used, applications can be sent by mail, but they must postmarked by November 1, 2007, and they must include original signed copies of the federal forms. Send to: Andrew Bruckner, NOAA Coral Reef Conservation Program, NOAA Fisheries, Office of Habitat Conservation (F/HC), 1315 East West Highway, Silver Spring, MD 20910. ATTN: CRCGP Project Applications.

Note: This program tends to be done every year so if you missed this deadline consider them next year.

NOAA International Coral Reef Grants Announcement for Fiscal Year '08
projects: Published July 4, 2007 in Grants.gov

The NOAA International Coral Reef Conservation Grant Program, as authorized under the Coral Reef Conservation Act of 2000, provides matching grants of financial assistance for international coral reef conservation projects. The Program solicits proposals under four funding categories:

1) Promote Watershed Management in the Wider Caribbean, Brazil, and Bermuda;
2) Regional Enhancement of Marine Protected Area Management Effectiveness;
3) Encourage the Development of National Networks of Marine Protected
Areas in the Wider Caribbean, Bermuda, Brazil, Southeast Asia, and the
South Pacific; and
4) Promote Regional Socio-Economic Training and Monitoring in Coral Reef
Management in the Wider Caribbean, Brazil, Bermuda, the Western Indian
Ocean, the Red Sea, the South Pacific, South Asia, and Southeast Asia.

Each funding category has specific applicant and project eligibility criteria.

Pre-applications must be received by NOAA by 11:59 p.m., U.S. Eastern Time, on Tuesday, Nov. 6, 2007. Pre-applications are NOT to be submitted through Grants.gov. Please read the detailed directions in the full
Federal Funding Opportunity.

Eligibility:
Eligible applicants include all international, governmental (except U.S. federal agencies), and non-governmental organizations. For specific country eligibility per category, please refer to individual category descriptions in Section V. of the Federal Funding Opportunity. The proposed work must be conducted at a non-U.S. site. Eligible countries are defined as follows: The Wider Caribbean includes the 37 States and territories that border the marine environment of the Gulf of Mexico, the Caribbean Sea, and the areas of the Atlantic Ocean adjacent thereto, and Brazil and Bermuda, but excluding areas under U.S. jurisdiction. The South Pacific Region includes South Pacific Regional Environment Programs Pacific island countries and territories, including the
Federated States of Micronesia, Republic of Palau, and the Republic of the Marshall Islands, but excluding U.S. territories and four developed country members. South Asia includes India, Sri Lanka, the Maldives, Pakistan, and Bangladesh. Southeast Asia Region includes Brunei, Cambodia, Indonesia, Laos, Malaysia, Philippines, Singapore, Thailand, and Vietnam. The Western Indian Ocean Region includes Comoros, France (La Reunion), Kenya, Madagascar, Mauritius, Mozambique, Seychelles, the
United Republic of Tanzania, and South Africa. The Red Sea Region includes five member countries of the Regional Organization for the Conservation of the Environment of the Red Sea and Gulf of Aden (PERSGA): Djibouti, Egypt, Jordan, the Kingdom of Saudi Arabia, and Yemen.

Projects previously funded under this Program are not eligible for follow up pre-applications unless they have been completed per the grant agreement.

The Federal Funding Opportunity contains all details regarding criteria for each category, pre-application format, funding amounts, etc. Please log on to www.grants.gov and do a Basic Search for Opportunity # NOS-IPO-2008-2001058. For further information, please write to international.coral.grants@noaa.gov

PADI
The Project AWARE Foundation, established in 1992, is the dive industry's leading non-profit organization committed to conserving the underwater environments through education, advocacy and action. Grant program funding is made possible by direct contributions from divers and water enthusiasts and operates on a quarterly funding cycle.

Project AWARE Foundation provides grants to a variety of nonprofit organizations, institutions and individuals involved in activities directly related to the conservation of underwater environments - both marine and freshwater.
See PADI Grant Program Guidelines
Sea Grant Programs
Every coastal state has Sea Grant programs. Typically research oriented, they occasionally fund artificial reef projects especially when research related.
Google search for Sea Grant programs in your state.
Mote Marine Laboratory is proud to announce a Request for Proposals
(RFP) for the Protect Our Reefs License Plate grant funding for 2008..
Approximately $450,000 will be available from 2007 license plate
receipts for use in 2008. Elibible organizations shall be based in
Florida and engaged in reef research, education and/or conservation.
Proposal are due; December 14, 2007.
For more information about previous awards and to download the RFP
and further information go to:
http://www.mote.org/4reef

Dave Vaughan, PhD.
Director, Center for Coral Reef Research
Executive Director, Mote Tropical Research Lab
Summerland Key, Florida