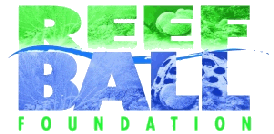 The Reef Ball Foundation authorizes high quality contractors to re-sell Reef Balls. Although people can acquire their own molds to do reef ball projects without contractors for their own project, molds are not licensed to produce Reef Balls for sale to others.
Since many prefer to hire out the construction and/or the deployment of Reef Balls to professionals, there is a need for licensed contractors who can produce high quality Reef Balls. Our contractor program ensures that certified contractors are trained to build and deploy Reef Balls to our foundation's quality standards while at the same time helping to support our charitable efforts.
Our Authorized Contractor program is fairly simple in concept. Basically, when we sign up an authorized contractor, The Reef Ball Foundation agrees to supply that contractor with molds at our costs (40% below retail) and they become eligible to re-sell Reef Balls to clients within their territories. In exchange, the contractor agrees to uphold all of our quality standards in manufacturing and deployment including training as needed and the contractor also agrees to donate between 10-20% of their revenues from Reef Ball products and related services to our foundation as a royalty fee.
To become a contractor, one must formally request an an authorized contractor agreement and invitation from our Board of Directors. (Requests can be by email but should be on letterhead or include corporate graphics).
The request should include
1) A brief basic Reef Ball business plan (where the company will make Reef Balls, where the company will sell, how the company will market them, sales expected or anticipated, etc.
2) The territory(s) requested to sell reef balls (Note: Offered contracts are almost always non-exclusive and contractors are generally not allowed to sell outside of their territories without prior permission from The Reef Ball Foundation).
3) Full contact information, including type of business, state of incorporation, web site, officers, addresses, email, etc.
4) A brief description of any relevant experience the contractor has in building artificial reefs, reef balls or deployments.
5) A brief description of why your company is "green" or well suited to represent our Foundation.
The request should typically NOT be more than 2-5 pages.
If our Board accepts your request, and once we write your contract and invitation (this usually takes a couple of weeks), then a formal contract is sent for review and if executed the contractor is authorized.
WE DO NOT LICENSE CONTRACTORS FOR A SINGLE PUBLIC BID, WE ARE LOOKING FOR CONTRACTORS COMMITTED TO MULTIPLE LONG TERM PROJECTS. The reason we don't provide short term or single project authorizations is that we can't always insure quality if the contractor is not committed to long term reef building and it is unlikely that the contractor would make a return on an indivdual project because of set up costs and training for initial molds.
Note: There are 3 separate types of authorized contractors. Those authorized for biological uses of Reef Balls, those authorized for erosion control uses of Reef Balls and those authorized for placement of cremated remains in Reef Ball.
Each type of authorization requires a separate request to our board of directors and a separate contract. The exact wording of contracts will vary by authorization type, territories requested and other factors and contractors should read and understand the specifics of their offered contracts before executing. The Reef Ball Foundation has the right to turn down requests for authorization. Authorization can be taken away from any contractor that does not meet our quality standards. Visiting our official web sites is a good way to check that any contractor your use is authorized and in good standing.