What's Involved & How Are They Made?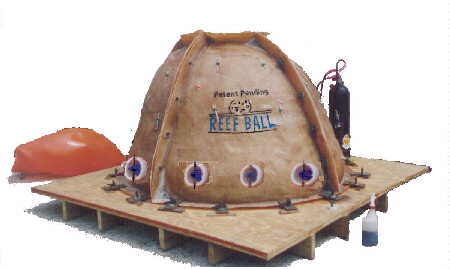 Reef Balls are made by pouring concrete into a fiberglass mold (shown) containing a central Polyform buoy surrounded by various sized inflatable balls to make holes. There are over a dozen different standard mold sizes and custom sizes are possible. Molds obtained from the Reef Ball Foundation are generally supplied with spare parts, tool kits, starting concrete additive supplies, and training. Sometimes, additional items such as coral propagation kits are added. Usually, clients only need to supply some plywood to build the base, a source of compressed air, and a fresh water supply. Any type of concrete can generally be used, including end-of-day waste, but additives such as microsilica and a high range water reducer are needed to give the Reef Balls high strength and to make the concrete suitable for marine life growth.
We provides clients with customer concrete specifications for their particular biological use and if admixtures are not available locally then we can supply the additives. Building an artificial reef usually requires artificial reef permits or access to use a permitted area. The Reef Ball Group can help clients get or secure permission to use a permit. A training manual on how to use the molds and how to deploy the modules is also included with the mold systems, but most clients host a couple of certified Reef Ball trainers for about a week to get set up and casting Reef Balls efficiently and safely. We can provide additional specific on-site training such as coral propagation, coral planting, anchoring, bottom surveying, site assessment, monitoring or any other aspect involving artificial reef projects to make sure your project goes smoothly. Special programs are available to subsidize university research projects and other worthy projects through the Reef Ball Foundation. Reef Ball Foundation also encourages participation in projects by private organizations as we match projects needing sponsorship with companies that want to help the environment while gaining excellent press exposure.