Why Polyform A-Series Buoys?

The Reef Ball Development Group, Ltd. uses Polyform buoys for both casting Reef Balls and for floating Reef Balls out to the reef. The reason? We tested them all and only Polyform's special rotomolding process and choice of high quality plastics allows the buoys to stand up to the pressures and high heat generated by casting concrete. We even visited Polyform's factory in Washington and can attest to their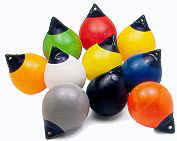 world class quality standards.
With over 5,000 Reef Balls made, we have lost few A-series buoys and those were due to our own dumb mistakes (we left a nail sticking out of the bottom of our mold bases). For more information and prices on Polyform Buoys, please contact the Reef Ball Development Group .